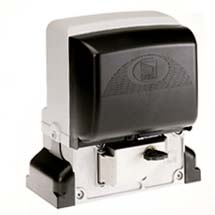 The BX-A automation system is suitable for various installation, operations and safety requirements. Options include the basic version for residential use, to more sophisticated versions equipped with an encoder for a constant electronic control of the system or with a low voltage motor for constant intensive operation.
With the radio transmitter, you also have the possibility of controlling partial opening for passage on foot. It also has the safety feature of all commands being cancelled if an obstacle is detected by the photocells.
CAMEs safety KIARO lamp can also be installed to signal opening, in turn allowing time to clear the area for the approaching vehicle. The ability to open the gate manually opening during power failure is just another feature that makes the BX systems so user friendly and functional.